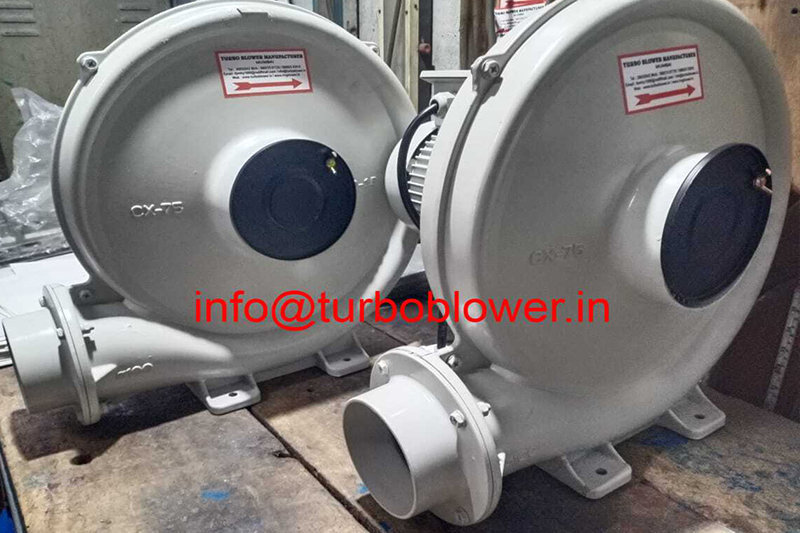 Centrifugal Blower CX Series
We are a company offering its clients a wide range of Centrifugal Blowers. Our blowers are widely appreciated for their excellent performance as these have been able to deliver efficiency up to 85% and above. We can provide these in various material of construction viz. Mild steel, Stainless steel, Aluminum, (MS-F-RP) lined, MS rubber lined, or as per specific requirements of our esteemed clients. Our fans can be availed at competitive prices in two configurations Single Inlet Single Width (SISW) and Double Inlet Double Width (DIDW) with split casing as an optional feature.In the centrifugal fans the air enters the fan axially and leaves the unit at a right angle to the axis.
The operating principal of a centrifugal fan is a combination of two effects. : centrifugal force and deflection of airflow by the blades in a radically outward direction into a spiral flow pattern. Centrifugal Fans normally produce more static pressure than axial flow fan of the same wheel diameter and the same running speed because of the additional centrifugal force which is missing in Axial Flow Fans.
Other advantages of Turbo Regenerative Blowers ventilators include :
Almost completely maintenance free Have a wide range of performance Robust yet light weight
Reliability - Built to last
50/60 Hz Voltage range motors Low level of noise
Easy installation
No vibration, complete dynamic stability Pulsation free discharge
Simple and minimal maintenance Higher Pressure Ratios
Cooler Running Bearings
Longer Grease Life
100% Oil Free Air
Suitable to environment protection Small dimensions
Centrifugal Blower CX Series Applications :
Drying out buildings - Ventilating/drying out buildings after flood
Dental vacuum
Filling Bags and bottles
Filling Silos
Fishpond/breeding pond ventilation - Enriching water with oxygen
Food processing - Degasification
Gas analysis
Industrial vacuum cleaners, central extraction systems
Lifting and holding parts using vacuum suction
Laser printers - Powder dusting and extraction
Letter sorting, enveloping
Packaging Machines
Paper Industry - Sheet separation, turning, transport, fixation and drying
Pneumatic Conveying
Soil Treatment - Extracting ground level air
Swimming pool technology/spas - Blowing air into water tanks
Textile machines - Extracting waste thread and fluff
Thermoforming
Ventilation of sewage treatment plants - Enriching water with oxygen
For the three phase machines the tolerance is +/- 10% for fixed voltage range and +/- 5% for regular voltage range.The single phase machines are designed with a +/- 5% tolerance. If only 90% of the maximum allowed pressure will be used for continuous operation then the allowed voltage range adds up to +/- 10%. The frequency tolerance is maximum +/- 2%.
Specifications :
| Item | Model | Kw/Hp | Capacity | Pressure | Vacuum | In-Outlet | Weight | |
| --- | --- | --- | --- | --- | --- | --- | --- | --- |
| 1 | TBM-YBCB-CX-65 | 0.18kw / 0.25hp | 270-330 m3/hr | 1100 Pascal | 700 Pascal | 2" | 7 kg | View |
| 2 | TBM-YBCB-CX-75SA | 0.4kw / 0.5hp | 420-500 m3/hr | 1600 Pascal | 1100 Pascal | 3" | 11 kg | View |
| 3 | TBM-YBCB-CX-75A | 0.75kw / 1hp | 780-950 m3/hr | 2400 Pascal | 1700 Pascal | 4" | 14 kg | View |
| 4 | TBM-YBCB-CX-100A | 1.5kw / 2hp | 1200-1450 m3/hr | 3000 Pascal | 2000 Pascal | 4" | 28 kg | View |
| 5 | TBM-YBCB-CX-125A | 2.2kw / 3hp | 1950-2350 m3/hr | 3700 Pascal | 2400 Pascal | 5" | 38 kg | View |
| 6 | TBM-YBCB-CX-150A | 3.4kw / 5hp | 2800-3300 m3/hr | 4400 Pascal | 3200 Pascal | 6" | 54 | View |